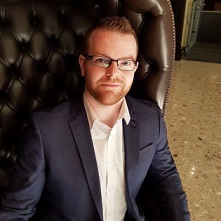 1). Tell us about what do you do?
I recruit locum candidates for temporary and contract assignments across all spectrums of the legal profession. I've dealt with most all positions, such as legal assistants, secretaries, paralegals, fee earners and solicitors. It can be extremely hectic with a certain degree of pressure, however, I like to thrive on that, it produces fantastic results when channelled correctly.
2). Life before Douglas Scott?
Before DS, I worked in industrial recruitment, again on the temporary side of things and prior to that I worked within the social care sector, I was dealing with upwards of 100 candidates a week, mainly support workers but I've also worked with nurses and qualified social workers.
3). Any market trends you are particularly excited about?
I'm excited for the future of locum recruitment. I believe it's something that is extremely beneficial for law firms. Be it holidays, sickness, short-term projects or maternity cover, there will always be a market for temporary candidates. I also like how the stigma regarding locum workers has lifted, it's fantastic to see that people now acknowledge their worth and what they can bring to the table. They're valued members of staff and are extremely helpful, not to mention knowledgeable with a wide range of transferable skills that are beneficial to any employer.
4). Who would be your all-time top 3 dinner party guests?
Firstly (as cliché as it is) I would have to say Sir Alex Ferguson. I was lucky to grow up when he brought that period of stability and unparalleled success to Manchester United. He defined what it was to be a leader, to show true passion for the team and most importantly, what it means to win when you put in the hard work and effort. It's certainly inspiration for anyone. Secondly, I would choose Kiefer Sutherland. Not only has he been in fantastic movies such as The Lost Boys, Young Guns, Flatliners and of course, Stand By Me, but his portrayal of Jack Bauer in 24 was amazing viewing. He has an extremely wide range, from the usual angry persona, to someone who has experienced personal loss and can convey these emotions brilliantly. Thirdly (as a huge gamer), I would choose Hideo Kojima. The man responsible for the Metal Gear Solid series of video games. He encountered a lot of struggles in trying to achieve his dream of creating something magical, something he personally believed in, he battled against a lot of adversary in ensuring that his passion was realised. The series I lauded around the world as one of the best of all time, in particular, the 3rd game in the main series. For these reasons, I believe these gentlemen could teach us all quite a lot, leadership, passion, determination, a will to succeed in what they believe in.
5). Favourite song and why?
My favourite song would probably be the toughest choice of all. There's so many to choose from. I don't believe I could pick an absolute favourite but one that is up there is Fake Plastic Trees by Radiohead. A beautiful piece of songwriting.
If you are a candidate who is interested in locum work or would just like to know a little more about the locum recruitment landscape then do not hesitate to contact Steven Baylis, Legal locum and contracts specialist at Douglas Scott Legal Recruitment. You can call in confidence on 0161 233 6360 or email steven.baylis@douglas-cott.co.uk .