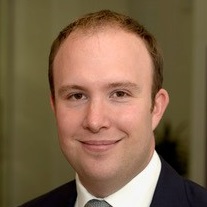 David Varnham heads up Mills and Reeve Banking and Finance team in Birmingham. In the summer of 2015 David and his family made the decision to relocate from London to Birmingham and having spent 10 years working in the banking team of Allen & Overy LLP in the City of London, he contacted us to help him find the best home for his talents.
6 weeks later, with several offers on the table David was delighted to accept a role with Mills and Reeve with a start date pencilled in for December.
We caught up with David to find out a bit more about the motivation behind the move and how he has settled in his new environment.
Tell us a bit about Mills and Reeve and your role there
Mills & Reeve is a full service national law firm with over 400 lawyers. The firm has offices in London, Birmingham, Manchester, Cambridge, Norwich and Leeds. I am based in the firm's corporate and commercial team and lead the banking team based in Birmingham. I also have overall responsibility for the firm's international finance group which specifically works with international lenders and corporates. As a team we advise national and international lenders and corporates on all aspects of transactional corporate banking and have a really broad and interesting client base. We are proud to include HSBC, RBS, Barclays and Lloyds as clients alongside international lenders such as Wells Fargo, CIBC and AgFe. The firm is highly regarded for our work in the education sector so it is no surprise that we have advised on some of the highest profile bond issuances for British Universities in recent years such as the University of Cambridge and Cardiff University.
Which aspects of your role do you enjoy most?
I joined Mills & Reeve to establish a banking team in Birmingham from scratch so business development has been a dominant feature of my day. I am now out most days meeting clients and contacts and enjoy meeting new people, learning about their businesses and building new relationships. This has been a particularly enjoyable aspect of my role and is very different to previous roles I have had.
Could you describe the most challenging element of your job?
The biggest challenge for me has been establishing a new team in a new market. Mills & Reeve has an excellent banking team but prior to my arrival did not have a presence in Birmingham. There are lots of very good and long-established banking teams in Birmingham so being the new team is not easy. So far so good, in 12 months the team has grown from just me to four full time banking lawyers (including another London relocator) and we've been instructed on some great, local, national and international transactions.
What motivated you to pursue a career in law?
The honest answer is probably lack of imagination. I studied law at the LSE, got a training contract offer from Allen & Overy in my second year and the rest is history!
What has been your greatest career achievement to date?
I was fortunate to train at Allen & Overy and worked there for over a decade. I worked with some exceptional partners and colleagues on some fantastic transactions. I advised on Greece's bail-out, the refinancing of Wembley Stadium, the first nuclear power station in Finland and an oil and gas transaction that will transform Ghana's power system to name a few. Having said that, my proudest career achievement to date was taking the difficult but positive decision to make the change that I did.
Why the relocation from London to Birmingham?
The decision to move from London to Birmingham was very much a joint decision with my wife and was made for family reasons. We'd both lived and worked in London for close to 15 years and while we still love the buzz of the City the cost/benefit of being in in London was slowly changing for us. With two young boys and our entire extended family in the Midlands we felt it was time for us to return home. We had always imagined our kids having a rural upbringing like ours and growing up close to their grandparents. As time went on the gap between what we wanted and what we had was growing wider and wider and we didn't feel that bridging the gap was possible with me continuing to work in London.
What have been the biggest changes you have experienced socially and personally and how have you reconciled them?
I now see a lot more of my family! In London I was rarely home in the evenings and shattered at the weekends. I'm now home most evenings to read my sons a bedtime story and get to spend a lot more time with my wife. I did feel as though I was leaving behind a lot of really good friends and colleagues when I made the move but fortunately that has not been the case as I spend one day a week working in our London office which has been great for keeping in touch with my London connections.
And any difference between the day to day professional challenges you experienced in London and Birmingham, caseload, work-life balance for example?
The role I now do is very different to the role I had at Allen & Overy. Business development and managing the team are now my main responsibilities with less emphasis on fee earning. At Allen & Overy my focus was on transaction execution with little to no business development or management. The volume of work is naturally less and the transactions are smaller and typically on less pressurised time-scales. As a result it is generally much easier to manage work-load and achieve a better work-life balance.
Do you have any advice for Solicitors and other legal professionals looking to relocate from London to say Birmingham, Manchester, Leeds or another big UK city?
There is no doubt that the move will probably be the biggest career decision a London based lawyer will make so make sure you spend time thinking it through (but not too long). Draw up a list of pros and cons based on what's important to you. Do you have a connection with the destination City? Can you do the kind of work you do there (not an issue for many but if you're a specialised derivatives lawyer you may struggle out of London). If you've got a family will they be happy in your new City? If you have a partner, will their job transfer as easily as yours? Having said that, there's no substitute for spending some time in the place you are thinking about and speaking with lawyers, family and friends who are already there to get an honest view on what it is like to live and work there.
And finally. A lovely, warm Saturday, early May. Ideally how would you spend it?
I now live on the edge of the Cotswolds so for me now it's spending the day with my wife and sons on the Cotswolds Way with a stop off along the way at a country pub for lunch.
Thanks David.
If you are an Associate, Solicitor or legal professional considering relocating to another city or region you could do worse than utilise the expertise of a multi-award winning legal recruitment expert. In David's case we managed everything, the short listing of prospective firms, the approach, David's initial interviews took place in London so he did not have to travel, job offers, acceptance and start date.
Contact your local Douglas Scott branch and ask to speak to a senior recruitment consultant about your prospective relocation.
London and Home Counties 0203 846 3071 | Birmingham, Nottingham, Bristol, Midlands and South West 0121 272 7371 | Manchester, Liverpool, North West 0161 233 6360 | Leeds, Sheffield, York, Newcastle, Yorkshire and North East 0113 467 7571