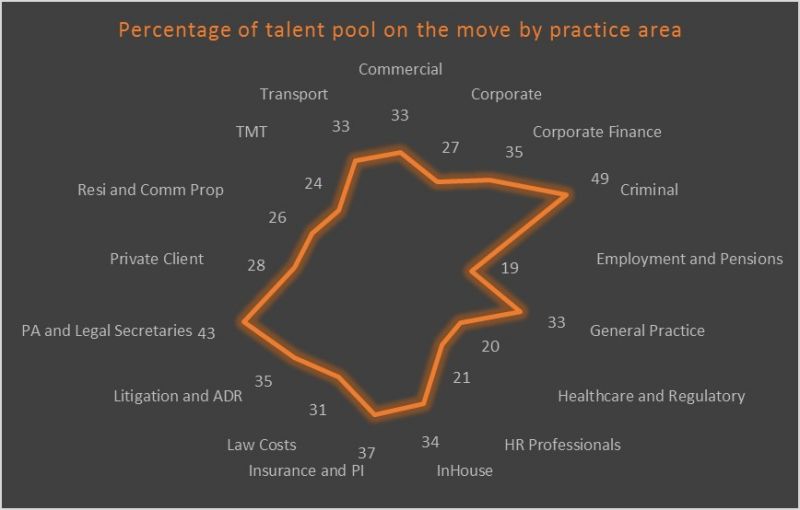 A third of the legal talent pool is on the move at any time but there is always going to be a bit of ebb and flow through different segments.
We got a bit more granular with the data we crunched when producing our 2016 Salary and Benefits Benchmarker and found out which practice areas and job functions are more transient than others.
So, who's on the move? And who's digging the groove?
Top spot goes to legal professionals working in Criminal Practice. Nearly half are on the move and in our experience many are looking to retrain.
Next up come Legal Secretaries and PA's. 43% are looking to change jobs.
The Insurance and PI sector has been under a lot of pressure and 37% of legal professionals working in the vertical are considering opportunities.
Employment and Pensions is the stickiest practice area with just 19% of the talent pool looking to change roles.
In a close second, Healthcare and Regulatory lawyers with only 20% looking to jump ship.
And it's the HR Professionals working in legal who are third least likely to be on the move with only 21% thinking the grass may be greener.
Out of the 17 practice areas and job functions we analysed 6 demonstrated above average fluidity.
Corporate Finance
Criminal
InHouse
Insurance and PI
Litigation and ADR
PA and Legal Secretaries
Business leaders and HR professionals with the responsibility for the retention and recruitment of Solicitors and Paralegals in these kinds of legal jobs will have to be careful. It's not just the churn that can be dangerous to business, administration of the recruitment workflow can take over the best part of the working day and lead to a paralysis in strategic decision making.
Career minded Solicitors, Paralegals and Legal Secretaries considering changing jobs will want to know about the whole of the employer proposition. And this is why, according to our research, 41% of legal professionals engaged with a recruitment consultant last time they changed jobs. A good recruitment consultant will always be in demand – both from legal professionals wanting to make a fully informed decision about their move and from hirers who are working hard to achieve stand out in a crowded sector.
If you have been affected by anything in this article or just feel as though it is time to get in touch then please email or call any of our offices and you will be put you through to the best person to speak to in our organisation.
Douglas Scott are multi-award-winning legal recruitment consultants with a 10 year track record of success in the legal sector.
Our business – put simply – is the removal of the pain points that candidates and hirers would otherwise experience on their recruitment journeys.
We achieve that by driving excellence in service delivery and efficiency in the hiring process.
London 0203 846 3071 | Birmingham 0121 272 7371 | Manchester | 0161 233 6360 | Leeds 0113 467 7571