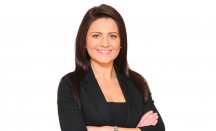 Beth Bearder was 1 of 4 Trainee Solicitors taken on by Flint Bishop Solicitors in 2011. Beth achieved a 2:1 LLB studying at Nottingham Trent University before completing her LPC at Nottingham Law School.
1. Please tell us a bit about the firm you trained with.
I trained with Flint Bishop LLP, and I am delighted that I am being retained on as a newly qualified solicitor in the employment department. Flint Bishop is a medium sized commercial firm based in Derby, with an office in Ashbourne. The firm has a strong presence within the Midlands, and have an excellent national client base. I wanted to train with Flint Bishop as I knew I would thrive with the one on one interaction trainees have with their supervisors, which would eventually lead to close personal relationships with clients.
2. When did you hear you were being retained and who did you tell first?
I was told I was successful in the NQ interview on 11 July 2013. I had to initially keep it under wraps until I had signed my contract of employment. After that, I had planned on a grand announcement to my friends and family, however this proved impossible as my best friend Nic knew straight away when we met for a theatre date the following Saturday so she is the one who I (indirectly!) told first.
3. When did you secure your training contract?
I was very lucky to have secured my training contract during my LPC which meant that I did not have to take a break in between completing the LPC and commencing my training contract. The initial interview for the Flint Bishop training contract was during May 2011 and the assessment day was the day after my final LPC exam in June 2011.Ironically, this was my last training contract interview for the 2011 trainee intake. I decided I had nothing to lose and gave it my all which obviously paid off. I was offered the "golden ticket" training contract on 14 July 2011.
4. How many trainees are there and how many applicants were there?
There were 4 trainee positions available during my year of intake and there were more than 400 applicants. One part of the assessment day involved a task whereby candidates were given £2 and dispatched to the local pound shop to select two items, one which represented yourself, and one which represented the firm. We then had to present our choices and reasons why to a panel of partners. It was quite entertaining to say the least!
5. What do you think stood out about your CV?
Without a shadow of a doubt it was my placement year. I did a sandwich degree at Nottingham Trent University and was lucky enough to secure a placement year as a paralegal for Fraser Brown Solicitors in Nottingham. I was able to explain exactly why I wanted to pursue my career as a solicitor and had real experience to back my aspirations. I had the advantage so many other law students didn't have and that was real client experience in practice. I really made the most of the opportunity my placement year provided, by arranging and attending numerous of networking events. This embedded the importance of business development within me which is quite a rare skill to acquire at such an early stage of a legal career.
6. Any advice for a law student looking take the Trainee Solicitor route?
Experience, experience, experience! I really cannot stress the importance of work experience, and would strongly advise all law students to push for as much work experience as they can. Remember, sometimes being different (but don't be cheeky - there are limits!) will stand you in good stead.
7. What is your greatest personal or professional achievement so far?
My greatest professional achievement has to definitely be assisting the corporate department with the sale of Royal Crown Derby. The deal naturally attracted national coverage and was named the Insider "deal of the month". We were able to facilitate the transaction to see the Company remain in independent hands within the Midlands. Having been born in Derbyshire myself, I was extremely proud to have been part of such an important deal, and to work with such a precious heirloom of ancestors of Royal Crown Derby.
8. Who's been the biggest single influence or inspiration in your career and why?
Honestly, I have to say the biggest single influence in my career is myself. I have had to overcome a lot of personal hurdles to come as far as I have and there is honestly no-one who puts more pressure on me to succeed as much as I do. The determination and fire has been embedded within me from a very young age. The biggest driving force during my education was my former head teacher Dr Mouatt during my secondary education. She reiterated (on a daily basis!) the importance of having a virtuous and fruitful career, so if you are reading this, I take this opportunity to personally thank you!
9. Please tell us a little bit about your journey - growing up, education, family, hobbies, career path etc.
The desire to succeed and to be ambitious was routed in me from a very early age. If I remember rightly I announced at the age of 10 years old "I want to earn enough money to be able to buy my own horses!". I have ridden show horses from a very young age, and it is a hobby of mine which will remain with me indefinitely. I am the first in my family to go to university, and secondary school really focussed my career path. I knew from then that I wanted to be a solicitor and chose my A Levels and degree accordingly. I honestly wouldn't have changed one step of the way and I know that I made the right decision.
10.Country pub or trendy bar?
At first sight at this question I would say trendy bar all the way drinking my favourite tipple - Laurent Perrier Rose. However, once I have kicked off my Kurt Geiger's and changed out of my work suit into my jodhpurs and Dubarry wellingtons you will find me at our local country pub with a glass of cider in hand. I really do live a life of two halves!
Thanks Beth