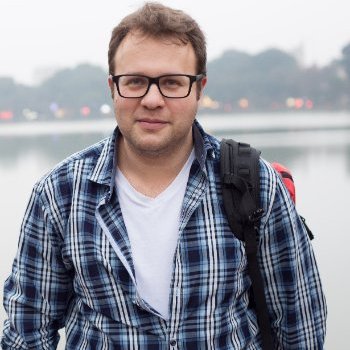 It's not everyday you come across a Solicitor who owes his success, in some part, to Henry Fonda.
But taking centre stage this month is Dan Berke - legal commentator, stand-up comedian and Director of Risk, Compliance and Operations at blockbusting Solicitors LHS.
Tell us a bit about your employer LHS Solicitors. They have been making the headlines recently haven't they?
I was attracted to the firm by several factors; the quality of the work, the passion the organisation has for its clients and the collegiate atmosphere.
A number of our cases have been very high profile. Recently I watched the news and saw that we were involved in three cases covered in one news program.
To me though what is most important is that as a firm, we are driven by our values in all that we do. A client who has a minor property dispute will get the same standard of client care as a celebrity client as we recognise that dispute will be extremely important to them.
We became one of the first Alternative Business Structures when Abbey Protection Group, a leading provider of legal expense insurance, became a corporate partner in the firm. For us this allowed us access to new markets and business and was a very positive step. In 2014 the Abbey Protection Group was acquired by Markel, a NYSE listed insurance company. We now have access to their business and marketing expertise and financial muscle. They have been tremendously supportive but above all have not sought to change the fundamental nature of the practice; it remains passionate and collegiate.
LHS was in the news again following our launch and have been identified as market disrupters. We believe in real law made easy. We want our customers to be able to access experienced lawyers in a way which suits their businesses and business practices. Our website is a game changer. It is totally different to any other legal website in that rather than say what we do, we have programmed it to ascertain what the customer wants to know and provides them with the key information they will require.
We have no idea what the future will hold but what seems certain is that technology and connectivity will continue to grow rapidly. The emerging business leaders are people who have jumped out of their comfort zones, looked at how services can be better delivered and are delivering based on their values. These are who we look to when we think how to deliver legal services.
And can you expand on what your role is there Dan?
I have a few hats. I am Head of Compliance for the Practice as well as being Operations Director for the Business Legal Services Department. I also hold a small caseload, primarily serious crime and regulatory matters.
The teams of lawyers in my department service a wide range of legal requirements for business and are experienced and put their clients at the heart of all they do. We aim to be very transparent with our lawyers and support staff and to bring them along on our journey.
I sit on a Board with tremendously talented lawyers, marketers, finance and businesses people. We all buy in to a shared vision. We share the same values and we are all unapologetically rebellious. Accordingly, I have the privilege of working in a tremendously exciting and stimulating environment.
What made you decide on a career in the legal profession?
When I was 16 I was considering a career as photojournalist and secured work experience with Reuter. I was taken to see a precedent criminal case which the first prosecution of a man for GBH for making dirty phone calls. The victim had suffered a serious breakdown. I seem to recall he was sentenced to 18 months. I met our Senior Partner Ian Lewis, in a video shop when I rented '12 Angry Men', the classic film set in a jury room. He saw it and told me it was the film which made him want to do law. I bought a copy and sent it to him with a note saying I would swap it for a work experience placement. He agreed and we stayed in touch. About 10 years later he invited me to join the firm as an equity partner.
What do you enjoy most about your job?
I still get a real buzz from casework. I enjoy reading law and applying it. Often my clients are facing serious, life changing allegations and working with them through what may be very dark times and achieving great results can be tremendously rewarding. A month ago I received an email from the mother of a client who was acquitted of causing death by dangerous driving four years ago. She wanted to tell me he had secured a great job and had got engaged, had he have been convicted, he would just be coming out of prison about now.
I also love being part of a team which is driving unique and exciting changes in the way legal services can be delivered to the SME market.
Who's been the biggest influence on your career?
After I graduated I worked for a summer as an intern for Clive Stafford Smith, the English lawyer who has dedicated his life to defending poor people on Death Row in the USA. His passion for his work and dedication to a noble cause in the face of a nation which largely opposes him and a heavily flawed legal system certainly left a mark.
Equally I have been very impressed by the work of Alan Dershowitz whose career as a lawyer, author and jurist has been remarkable, as has his fight against Anti-Semitism. His book 'letters to a young lawyer' is well worth a read.
Noting your media work, we interviewed Joshua Rozenberg two years ago this month – arguably one of Britain's best-known commentators on the law. Any thoughts about following in his footsteps?
Not something I have considered before and perhaps not the path I have planned. He is an excellent commentator and I very much enjoy his articles. I am rather flattered that you consider me a contender.
Any chance of a future in stand-up comedy?
Last summer I actually did a charity stand-up comedy show at the Comedy Store in Manchester. It was something I had always wanted to do and actually it went very well. Embarrassingly though, I saw my old Jewish Studies teacher in the audience and told a very, very rude story about a liaison with a girl when I was a teenager. She actually found it hilarious. I am just glad she didn't work out that it was her niece.
What has been your greatest achievement so far in life (personal or professional)?
I am Vice Chairperson of community organisation and trustee for a boxing club which trains and mentors young people from underprivileged backgrounds. I still have lots to achieve in these roles but feel it is important to give my time and skills to causes which are close to my heart
Tell us a bit about you - growing up, education, career path, family, interests, relaxation etc.
Wow – sounds like you want a mini-autobiography. I always feel that if I ever went on X Factor I would have no chance; first because I can't sing a note and secondly because I have come from a perfectly normal, well-adjusted background. I don't have a sob story at all.
I had such a great time at Uni that I stayed and did an MA in Criminal Justice and then lived on a kibbutz in Israel for a few months where I met my wife. I trained as a solicitor at a firm specialising in fraud with an excellent training partner who was a great influence on me. After I qualified a friend and I set up a small practice before we amicably went separate ways when LHS made me an offer to join.
I have two kids who keep me exhausted but smiling. In terms of interests, I have always enjoyed photography and I have boxed for many years. I may have to call it a day though as my colleagues were not too impressed when I turned up with a black eye to interview a business analyst.
Fish and Chips or Sunday Roast?
Shabbat dinner at my Mum's.