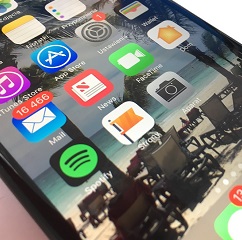 Apple is expected to post record iPhone sales this week, commentators are predicting 78 million phones were sold in Q4 of 2016 which is a 3 million year on year increase.
But what's all the fuss about? Sure there's the looks. The feel. The status. But beyond vanity are there any other reasons legal professionals should be ditching the 6 in favour of a mobile phone that can cost up to £1,000 of your hard earned cash?
Legal IT recruiter David Doherty looks at 10 enhancements that will probably fail to convince your friends and colleagues otherwise.
If you thought Apple couldn't possibly come up with anything new for the iPhone, think again. The iPhone 7 brings a barrage of improvements and upgrades, but which are game-changers and which are merely tweaks? Let's find out.
Ear Ear
The most talked about change is Apple ditching the headphone socket, with the Lightning connector now doubling as both data and audio connector. The good news is that you don't need Apple's hugely expensive wireless AirPods: You can use the bundled earphones, get an adaptor for your existing wired earphones, or use any Bluetooth headset.
None More Black
The iPhone 7 doesn't just have black among its colour options: It has standard black and jet black variants. The latter is glossier, but bear in mind the small print warns that its added shininess may show up "microabrasions," so it probably isn't the best bet if you're obsessed with that brand-new look.
Making a Splash
The 7 is the first splash- and water-resistant iPhone, meaning it's suitable for shower selfies or rainy-day browsing, but no good for deep sea divers. Real-world testing suggests it will survive an unplanned dip in anything up to a metre of water, but the speakers could wind up worse for wear.
Two for the Price of One
Speaking of speakers, the 7 has stereo speakers for the first time. It's a welcome upgrade, though the cinematic effect is always going to be limited on a phone screen, and it could mean being twice as annoying if you're "that person" listening without headphones on the train.
Under Pressure
The home button now comes with haptic feedback, meaning you'll feel a vibration as you press it (rather than the physical click of old-style buttons). It's had a mixed response, but it does mean app makers can use the technology to make interacting with your device feel more immersive and natural.
Beyond HD
The 7 is the first iPhone to officially support 4K video recording, which means you can capture better quality than is currently broadcast on most TV channels. If you've got a 4K television or know somebody who has, you can pretty much guarantee they'll leap at the chance to watch any available footage, even if it's your nephew's ear-torturing recorder recital. And even if you don't have a 4K screen, it's a great way to future-proof your home movies.
Flash Harry
Traditionally, camera phones have left users choosing between disappointing photos after dusk or using a flash that created an unnaturally bright image with unwanted reflections. The iPhone 7 overcomes this with a TrueTone system that uses four LEDs of differing types of warm and harsh light. The phone assesses the ambient light and activates these LEDs in varying combinations and strengths to capture a much more realistically-lit image.
Be Selfish
The iPhone 7's front-facing camera -- or, as it's inevitably known, the selfie-cam -- is now a whopping seven megapixels. It's also got adjustments to deal better with low lighting. It's going to capture those selfie moments in intense detail, and whether that's a benefit or a curse is up to you.
A Closer Look (iPhone 7 Plus Only)
The 7 Plus has two separate lenses, one of which is a telephoto lens. This means you can combine digital zoom (which selects a small part of what you can see and "blows it up") and optical zoom (which physically zooms the lens in like a professional camera.) You'll notice the difference particularly when trying to get fine detail on a faraway scene such as a sporting event.
Double Delight (iPhone 7 Plus Only)
Having two lenses means the 7 Plus can produce the bokeh effect, which is where the main subject of the photo (such as a person) is razor-sharp, while the background is blurry. It's fantastic for arty shots (and Instagram likes) but normally requires either a dedicated DSLR camera or a skilled hand at Photoshop.
Just when I thought I was out... they pull me back in
Judging by the spectacular increase in sales it looks like Apple have got it right with the new iPhone 7. I saw an article stating that the main reason for consumers buying or upgrading to the iPhone 7 was increased battery life. Clearly in denial and plenty of tests have created a bit of doubt about that claim. Just admit it. It's the looks, the feel, the status. And when you grow tired of that, there's always the 8 to look forward to.