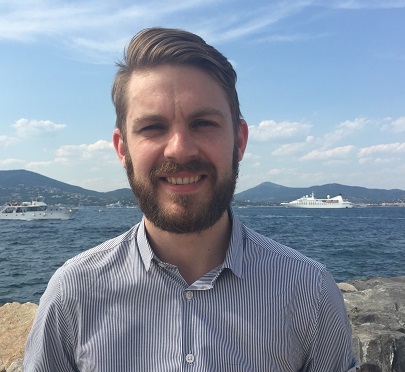 Ben is a soldier, one of the army of contract specialists that dot the i's and cross the t's on the tens maybe hundreds of thousands of commercial deals struck across the country each day.
He's one of the nice guys and kindly took some time out from his busy schedule to tell us a bit more about his role and professional and personal motivators.
Tell us a bit about yourself Ben
I'm a 29 year old, Liverpudlian currently living in Manchester. After graduating in Law from Liverpool John Moores University, I decided not to immediately pursue the typical career path of training to becoming a solicitor or barrister, and instead secured a job for an Insurance company – working in the ATE claims department. It was a really enjoyable role and I had the blessing of working with some unbelievably great people – with a Christmas work party in Barcelona being one of the highlights. The role itself was was really interesting and I loved the forensic nature of reviewing case files - it also gave me an interesting insight into how solicitors ran cases from start to finish. However, ultimately I wanted a role that allowed me to build on the theoretical knowledge I gained at university and as a result, I took the opportunity to take my current role at IGT.
Outside of work I'm an avid sports fan, loving nothing more than spending the weekends watching or playing sport (mainly football). I eating out and must say, against all of my natural instincts as a Scouser, Manchester has an amazing culinary scene - Greens in Didsbury is well worth a visit, whether you are veggie or not.
Why a career in law?
Why wouldn't you want to pursue a career in law? I think law provides an excellent foundation for a variety of different career-paths and this potential to experience a multitude of different types of roles greatly appealed to me.
Also, I really enjoyed the study of law and legal systems. Law has an impact on all aspects of our daily lives and is founded in politics, morals and ethics, which makes an extremely interesting and relevant topic for study.
However, I think I mainly like the idea that ultimately the law is imperfect, despite thousands of years of development, aided by some of the greatest minds. It constantly requires adaptation to changes in society and must evolve to resolve its own shortcomings. I like the idea of having my own part to play in the evolution of the law.
What do you enjoy most about your current role?
I currently work as a Contract Specialist for International Game Technology - a global developer of innovate game content, machines, systems and support provider to the casino and online gambling markets. I really enjoy the variety of opportunities, jurisdictions and projects that I get involved in on a daily basis. One day I could be working on a Licensing Agreement for the delivery of game content in the UK, next a deal for logistics and storage of terminals in Sweden. Every day I am getting a chance to build on my knowledge base and gain valuable experience. My colleagues are also great to work with and we often take the opportunity to get together and socialise outside of work.
What attracted you to work in-house rather than for a law firm?
It is hard to provide a direct comparison, having never worked for a law firm. But I can imagine that in-house provides a more flexibility and perhaps has a more relaxed working environment, with a PlayStation and table football being just some of the break time benefits we enjoy.
What's your greatest career achievement to date?
I am very proud of the way I have been able to step up to the demands of my current role, particularly over the last year. During a transitional time for the business, I have been lucky enough to have been given the opportunity to lead the legal support for our interactive operations across Europe. It has been highly demanding, but ultimately very rewarding and beneficial for my personal development. That aside, the feeling of executing the first commercial contract that I negotiated as lead will always be a personally proud moment.
Who has been your biggest influence in your career and why?
I have drawn influence from a number of different sources, but in respect of driving my love of the law, I would say my personal tutor David Lowe at LJMU. Despite being an Evertonian, I found him both knowledgeable and insightful. Joking aside, his Criminal Law lectures were always gripping - even early on a Monday morning. I think it was hard for his passion for the law (and the application thereof) not to rub off. He also had a certain level of cynicism which kept him honest on the subject – and I really appreciated that.
From a work perspective, my current manager Eve Wright has been hugely influential in my personal development, my appreciation for how to practically apply the theoretical legal knowledge I have gained to date and how to manage challenging workloads. It is hard not to be inspired when you get to work with someone who is exceptional in their role.
What might you be doing now if you had not pursued a career in law?
That is a very hard question, because there are infinite things that interest me and I would like to turn my hand to. Channelling my inner ten-year-old, he would like to believe that I would be scoring a winner (or ten) in front of the Kop at Anfield, and helping my beloved Liverpool FC to a, so far illusive, Premier League title. In reality though, accepting the significant limitations in my ability on the football field, I would probably be pursuing a career in journalism/freelance writing. I think that the creative license and flexibility would greatly appeal, as well as having the opportunity to travel more and not necessarily work from a fixed-base or at set times.
Favourite holiday destination and why?
It would be hard to top going to Rome for New Year in my opinion. I have always had a real love for Italy, its history, the people, the food, the football. One of my earliest memories is still watching the World Cup final in USA 1994, and being catatonic when Robert Baggio (hero at the time) missed the last penalty in the shootout. Despite this early upset, Italy has always been a place that fascinates me. So getting the opportunity to go and spend New Year in its capital city was a dream-come-true – and it did not disappoint. Watching the fireworks with the picturesque backdrop of the Colosseum on the stroke of New Year, accompanied by my lovely girlfriend was nothing short of magical.
However, that all being said – I am currently writing this in the Cote d'Azur, with a week in a 1960's VW campervan ahead. So I'm not ruling out just yet the possibility of being swayed by the vineyards and idyllic coastline of the French Riviera - (Cannes Pyrotechnics Festival being an early highlight!!).
Thanks Ben, enjoy your holiday.