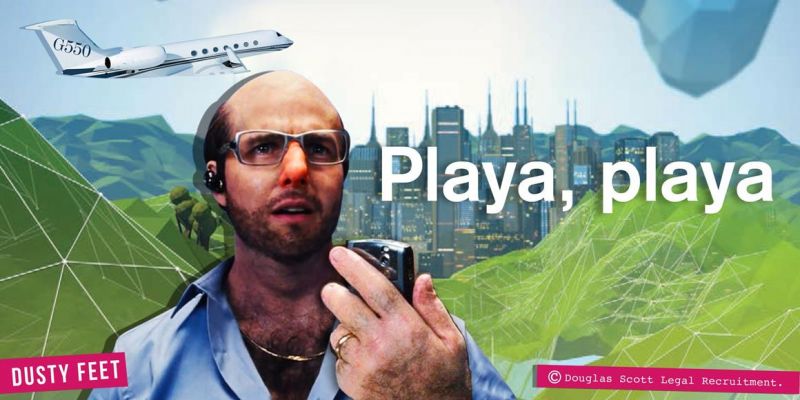 Go on, admit it, you got into law for the cash. A bit of the high life. The cars, designer accessories, pugs, G5. That's how you wanna roll.
So, where's the action? Which jobs are paying enough to get you into the top 10% of the UK's earners? What do these people look like and what are they thinking?
Legal professionals will need to be earning £55k or above if they are to break into the top 10% of the UK's earners. If you got into law for the cash and a bit of the high life, then this my friends is where you should be at or at least gravitating to. Then, you might stick around for a while or may just be passing through and on to partner level opportunities offering packages at anything from £500k to £1m. But what does this group of high earners look like? Where are they working and what if anything do they have in common? And what do you need to do to make it?
Well for starters you really do need to be putting your foot down. High earners in legal averaged 12 years' legal experience however most were becoming part of the club after 6 years. These top 10% averaged 3.5 years in a previous role although the majority in our sample had changed legal jobs after only 2 years. 22% moved jobs to progress their careers, 16% cited job security concerns. 9% moved just for the money.
31% worked in the Top 200 UK law firms. 24% on the high street in single or multi branch private practice. 20% of the highest earners worked in house. 9% in niche or boutique legal environments and 7% in Alternative Business Structures. 7% plied their trade in Personal Injury specialists and 3% in Property Specialists.
46% of legal professionals earning £55k or over owned their own home, 33% rented and 20% still lived with family.
So which areas of law are accommodating the big earners? What are the job roles you need to be aspiring to and what are your chances of getting to the top?
Corporate and Commercial. 1 in 5 legal professionals working in Corporate and Commercial Law are earning over £55k. However, you really do need to qualify as a Solicitor to make it in this game as they account for 80% of the high earners. And you need to be placing yourself where the deals are happening. 63% of the highest earning Solicitors were based in London with the remainder distributed evenly around the UK's biggest cities, although the North East is under represented. High earners are likely to be high flyers so you really do need to be aspiring to Associate level or upwards and achieve it quickly or watch your back. Associates are pulling £60 to £90k in the regions and topping £100k in London. The sky's the limit beyond that and there is a real desire to bring experienced Partners into Top 50 law firms based in the major cities outside of London. Packages are breaking the half a million and that goes a long way in Birmingham, Bristol, Manchester and Leeds. Many are called but few are chosen. However, it's still £££££ if deal making is your game.
In House. 3 in 5 In House Lawyers are paid £55k plus. There is a good distribution of high earners across the country with just over 50% of our sample working in legal jobs outside of the capital. Our sample of high earning London based In House Solicitors and Lawyers averaged an £82,000 basic wage with 1 in 4 earning £100k or more and the highest at £220k. Regional, high earning In House Lawyers' averaged £83k with once again 1 in 4 earning £100k or more and the highest at £200k. 64% of In House Solicitors and In House Counsel secured a pay rise when they moved jobs, which averaged 27% but in some cases pushed 50%. Top salaries, great benefits with 1 in 4 working flexible hours. ££££
Insurance and Personal Injury. Despite the pressures there's still plenty of life in Personal Injury and salaries are creeping up as demand for talent outstrips supply. 1 in 10 of all the lawyers working in Insurance and Personal Injury are earning a basic of £55k or over. 100% of that 10% are qualified as either Solicitors or CILEX legal executives. 31% of high earners work for UK200 law firms. 41% work for PI specialists. Business leaders and seniors within claimant PI Specialists are being paid between £50k and £80k salaries with 80% receiving a bonus on top of that. Industrial Disease and Catastrophic Injury experience is a prized attribute in both claimant and defendant Personal Injury environments. Professional Negligence Associates are getting upwards of £60k in the regions and pushing £90k in London. 1 to 3 years PQE Insurance Litigation Solicitors are being paid £60k in the regions and £78k in London. Hot property in Insurance and Personal Injury at the moment though are Clinical Negligence Solicitors. There is demand across the country in we have recently experienced a salary breakthrough with pay accelerating quickly over a few years PQE to £70k in the regions and £100k in London. We have lots of Personal Injury opportunities in every region and there's loads of heat being given off in Clinical Negligence. Plus, it is so accessible, Personal Injury has enabled social mobility and championed diversity more than any other area of law, offering steep learning curves and fast track reward for strong technical fee earners. We're giving Personal Injury ££££
Litigation. 1 in 5 Litigation Lawyers are paid a £55k or above basic salary. Although 47% of our survey sample were female litigators that only translated into 27% of all high earners. 7 out of every 10 high earning litigation lawyers works in London in legal environments including US, International, UK200, boutique or niche legal firm and ranked by Chambers and Legal 500. London job titles include Document Review Lawyer, Contract Lawyer, Solicitor, Costs Lawyer, Associate, Associate Solicitor and Partner. A third of London's high earning Litigation Lawyers were women. 100% of our survey samples high earners outside of London were male and mainly employed in Top 200 UK environments with at least 26 partners but pockets within the larger regional full service firms boasting over 11 partners and generally with Legal 500 and Chambers ranking. High earning job titles outside of London are mainly senior so Associate, Senior Associate, Partner and Head of Department. Associates can push £85k and partners £90k plus. 77% of Litigation Lawyers received a pay rise when they moved to their current role which averaged 28%. Does it kick it? Yes. Do we need to see more high earning female litigators? Damn right. Great opportunity to earn but questions about accessibility. £££
Private Client. 1 in 10 legal professionals working in Private Client (Family, Wills and Probate, Trusts and Estates) earn a £55k plus basic a year. Private Client. Family Law Partners and Wills, Probate, Trusts and Estates Partners' packages with UK200 firms are starting at basics between £100k and £140k. 45% of the highest salaries are being paid in London. With the exception of some London based boutiques and full service high street law firms, employers tend to be top 200, over 26 partners and boasting Chambers and Legal 500 rankings. 100% of the Private Client lawyers earning £55k plus a year were Solicitors and the genders were represented pretty equally. Job titles attracting the bigger salaries included Senior Private Client Solicitor, Associate Solicitor, Head of Department and Partner. 7 in 10 were either satisfied or extremely satisfied in their current roles. 85% got a pay rise when they moved to their current role with the maximum pay rise equivalent to 54% of previous salary and lowest 7.5% of previous salary. According to our research the average pay rise secured by job movers across all practice areas is 30%. You get to the top of the game in Private Client and the sky is the limit but Associate level opportunities also come with reward. Sleeping giant, as they say, so ££££ with more potential next year.
Property. 14% of Property Lawyers who responded to our 2016 Salary and Benefits Benchmarker earned over £55k. 16% of these worked in a high street or niche private client environments. 19% in boutique or niche commercial firms. As you'd expect the majority of the biggest earners worked in Top 200 ranked firms. Commercial Property, Planning and Construction roles boast some of the highest salaries. There are plenty of London based Senior Associate roles paying £60k to £120k basics and in the regions and home counties residential and commercial junior partners are pushing £120k per annum. Locums also fare well in Property with the best pulling in the equivalent of £70k a year. Accessible area of law but tight margins in residential mean there is a ceiling outside of London; the big money is in commercial and real estate. Player rating ££££.
Although only 1 in 5 high earners expressed some dissatisfaction in their current role 1 in 3 were open to exploring new opportunities and 1 in 2 were not totally closed to the idea of moving from their current role. Which is great news for all the good legal recruitment consultants out there because 41% used a legal recruiter to facilitate their last job move.
If you are in it for the money and the lifestyle and you are open to a conversation about a better employer proposition then now is the right time to connect. Call or message one of our senior recruiters and let them know you want to talk about high earning legal opportunities. Douglas Scott are regulated, multi-award winning legal recruitment specialists with a network of connections spanning local, regional, national and international law firms and in house legal departments.
Olivia Collicot, Nicola Hook, Christine Smith, Team In House
​T: 0203 846 3071 E: inhouse@douglas-scott.co.uk
Andrew Ross, Private Practice, London
T: 0203 846 3071 E: andy.ross@douglas-scott.co.uk
Emily Oakes, Private Practice, London
T: 0203 846 3071 E: emily@douglas-scott.co.uk
Guy Pearson, Private Practice, Home Counties
T: 0203 846 3071, E: guy@douglas-scott.co.uk
Sean Doherty, Private Practice, Midlands
T: 0121 272 7371 E: sean@douglas-scott.co.uk
Steve Collins, Private Practice, South West
T: 0121 272 7371 E: steven@douglas-scott.co.uk
Jon Paul Hanrahan, Private Practice, North West
T: 0161 233 6360 E: jp@douglas-scott.co.uk
Claire Smith, Private Practice, North West
T: 0161 233 6360 E: clare.smith@douglas-scott.co.uk
Katie Plant
T: 0113 467 7571 E: katie.plant@douglas-scott.co.uk
Lee Traylor, Private Practice, Yorkshire and North East
T: 0113 467 7571 E: lee@douglas-scott.co.uk