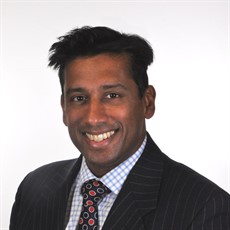 1. Tell us a bit about yourself Siri
I am 45 and married to Becks with 3 boys, George, Max and Sam. My parents are Sri Lankan and when I was 10 years old I was sent to boarding school in England whilst my family remained in Asia. I have a Biochemistry degree and a Management Masters from Oxford University.
2. Why did you choose to pursue a career in the legal sector?
Having started my career in internet and telecoms in the mid 1990's I almost fell into the legal sector as I was asked by someone I know to help out a legal practice on the operational side. That was the start of a really enjoyable journey in a sector with intelligent and driven people who regardless of sides fight for what they think is right and the law. The sector has both huge opportunities and challenges as it moves into a modern framework delivering services in new and innovative ways. It's exciting.
3. Tell us about your role as Head of Commercial Advisory & Private Wealth at BLM
My job centres on running the division and ownership of the P&L and as part of the business' leadership group sit on the Operations Board. However there is a bit more to it as we are pretty much a start up within the long established and highly reputable BLM (Berrymans Lace Mawer). We are building a new capability for the firm in both business facing service lines and private client from scratch. So we have launched services such as commercial litigation, company commercial, employment law, property law and on the private client side estate planning and probate, family law and some conveyancing. It's fair to say that we are up and running as since launch only 6 months ago we have built up to a 36 lawyer practice with a national reach! It's also fair to say that we are ambitious and have a way to go, so we are on a major recruitment drive....
4. What do you enjoy most about your job?
I enjoy being part of a team and so the people that I work with are important to me and here at BLM I am lucky to have amazing people around me. I also really like the challenge of building something and making a difference in what I am trying to do. This brings a need for strategic thought, innovation and operational delivery as well as taking people with you on the journey, giving them opportunities to develop their careers. That for me is the perfect mix.
5. What's the most challenging element of your job?
It is getting the right people, especially in senior roles. As we build, those who we recruit become the crucial bedrock of the culture and values that we want. In the end it's our values that hold us together and so ensuring that those that we recruit have the full mix of capability, drive and values is key.
6. Who or what has had the biggest influence on your professional career so far?
That's a tough one as several people and experiences have had a big influence, but ultimately it's probably my dad. I followed his example on values, work ethic, having a go at taking on a challenge and not being afraid to learn. He was also very good at asking the right questions to get the mind focused. I have been lucky as over the years I have also worked for some great leaders and I have learnt a huge amount from them.
7. Have you faced any crossroads in your career so far and if so how did you manage that?
I think it was the decision to switch my career path into the legal sector. I took a lot of advice, it was a case of speaking to as many people as possible and especially getting a steer from those who I respected. I did a lot of research too. Doing this actually reinforced my gut feel that it was a good move.
8. Do you have any advice for new trainees or paralegals beginning a career in law?
My advice is to make the most of it from every aspect, get your hands dirty. Learn from those around you including areas outside the core provision of legal advice. In today's legal sector the ability to drive areas such as business development or processes and technology will stand those building a career in good stead. As important is the ability to understand basic financial data so take any opportunity that allows greater understanding of financial accounts.
9. What could you see yourself being or doing if you had not pursued a career in the legal sector?
Probably teaching. I enjoy mentoring which I still do, I am also a volunteer cricket coach for kids. Bringing people on, helping my group to learn, develop and succeed gives me real pleasure.
10. What do you do to relax outside the office?
I used to play a lot of sport and am stilling hanging in there playing hockey in the winter and cricket in the summer. We live in the countryside and long walks with our dog is something I do regularly. Aside from travelling which I really enjoy the other thing I do as much as I can and helps me to relax is meeting up with friends for some food and wine.