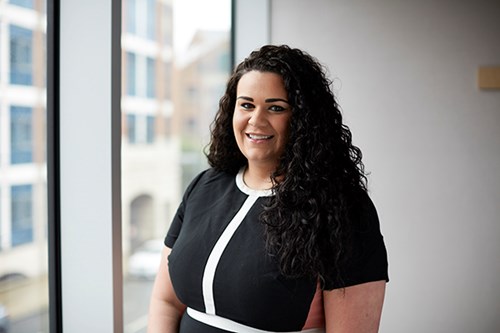 1.Tell us a bit about yourself?
Professionally, I studied Law at Lancaster University and graduated in 2010 and completed my LPC at Manchester BPP in 2011. Following my studies I spent two and half years working in recruitment, both in financial and legal settings which drastically enhanced my commercial knowledge and management of client requirements and expectations. My focus then moved back to a traditional legal setting when I joined Pinsent Masons as a Paralegal in the Real Estate department where I managed a team of assistant paralegals before I joined berg in December 2014 to begin my journey as a Trainee Solicitor.
Outside of work, I have a keen interest in Dancing and Boxing, both watching and training and I have competed in several street dance competitions. I love to travel and have been lucky enough to visit some astonishing places including several locations in Europe, China, Thailand, Bahamas and the USA - though I still have many more destinations on my bucket list.
2.Tell us what being a trainee involves?
Being a trainee can be extremely diverse and multifaceted particularly dependant on the size and type of firm you work for. From my personal experience I have also found that a trainee's client and matter responsibility can vary in scope based of different departments also. My training contract at berg so far has allowed me to run my own commercial refinancing files alongside some residential conveyancing. I also managed significant parts of larger commercial real estate deals. Comparatively, I have also been a much smaller cog in a range of extremely high value contentious matters within the dispute resolution department in a broad range of areas including banking, insolvency, property litigation and general commercial litigation. I have found the transition between departments exciting but also places you outside of your comfort zone which is a great way to develop your confidence in new environments.
3.What do you enjoy most about your job?
Here at berg we have a strong focus on client care and standards from all employees, irrelevant of seniority and the firm is committed to providing relevant and real world advice which is suitable for modern businesses. This has meant I have had a great deal of client exposure. This has unquestionably been my one of the most enjoyable parts of my role. I enjoy developing strong working relationships with my clients and understanding their business goals and ethos in great detail. I have been given a broad scope in terms of my business development involvement and have been lucky enough to attend several substantial networking and educational events which have proved to be extremely productive in developing my personal working connections and general firm exposure. I have been fortunate whilst undertaking my training contract at berg to have worked with experts across a range of legal disciplines whilst also developing an understanding of the commercial side of operating a modern legal business.
4.Who has been your biggest influence in your career and why?
Without a doubt my parents have been the biggest influence in developing my career throughout my life, the important of business acumen and commercial understanding has been instilled into me from a young age with both my parents owning distinct businesses. They have always pushed me to believe in my goals and never give up at the first, second or hundredth hurdles. This tenacity has proved to be the best lesson I could have learnt in my journey towards qualification. My dad pushed me to develop my commercial awareness early including sending me on a sales and negotiation skills course for my 16th birthday present, a gift I definitely did not appreciate at the time, and my mum taught me the importance of emotional intelligence within business. This balanced background has allowed me to implement a range of skills which may initially seem more relevant to a sales role but as the legal market is focusing more on business development and client added value, the role of a solicitor is shifting also.
5.Why did you choose to pursue a career in law?
I should probably not admit, my interest in law was initially unleashed by timeless classics like a few good men, Liar Liar and Ally McBeal. My first work experience, shadowing a court clerk as a 15 year old cemented my interest in the legal system. Further work experience, conversations with solicitors, barristers and judges all developed my understanding of the legal world and where in the market I wanted to position myself. I knew fairly soon that my interests were primarily in a commercial environment rather than a services for individuals setting. I am a firm believer in your background, interests and personality being important factors as to what sector of law would suit best, I found it extremely useful to assess and spend time in as many varying departments and firms as possible to make this decision.
6.What has been your greatest achievement so far in life (personal or professional)?
Personally I find this question extremely difficult to answer as I am the type of person to looks to see the importance in every achievement in my life, so there are a lot of memories which may not be seen as the one greatest achievement of my life but have been fundamental to my development as a person. So instead I like to focus on my highlights. My career highlights would include participating in winning large tenders with blue chip companies, being awarded consultant of the year in my first year in recruitment, being accepted onto a training contract, and attracting complimentary testimonials from my clients who have been impressed by my contribution and felt I went above and beyond their expectations. My personal highlights would include winning a team street dancing completion, deep sea scuba diving in Turkey, Jet Skiing in front of the Atlantis Hotel in Bahamas and climbing the Great Wall of China.
7.Tell us a bit about the MTSG and your involvement?
The Manchester Trainee Solicitors Group is a fantastic networking society for legal professionals ranging from paralegals to solicitors 2 years post qualification. It allows members to interact with one another in a relaxed environment and create strong working relationships across a range of legal sectors and also other industries with our inter-professional interaction. MTSG differs from usual networking groups as we like to keep our events current and fun. Members also have the opportunity to liaise with the best recruitment consultants who may be able to guide and assist them throughout their career. MTSG focuses on assisting its members to create strong connections with peers through socials, education seminars, qualification talks and trips away. It is a brilliant way to develop confidence and make some great friends along the way.
I was elected as one of the Social Directors for MTSG 2015/16 and I have had an amazing time, I have been involved in organising events in some of the most prestige bars and clubs Manchester has to offer. This year's events have seen a huge increase on attendance from previous years and I have been lucky enough to incorporate the use of both video production and/or photography for each event promoting the brand.
8.How has working with the MTSG influenced your career?
MTSG has drastically enhanced my professional connections and has allowed me to develop and build on my career aspirations. I have found working with the committee members and interacting with my peers extremely beneficial giving me an important insight into other sectors, industries and firms. This has allowed me to appreciate the connection and overlap with my work. I have been able to utilise my experiences with the MTSG to implement new ideas into the social and educational arena of berg and I have found my involvement so far invaluable.
9.What advice would you give to someone planning on going down the law route?
The legal route is a very well regarded and rewarding career path; it is however, not without its challenges. As any trainee will agree the journey from studying Law at University or studying a GDL conversion course and completing the LPC through to paralegal roles, applying for training contracts, attending several selection centres and being grilled about every part of your personality and academics is a tough process and feels like it is never ending. I would advise anyone at the beginning, or at any part throughout their journey to keep focused and remain tenacious. When you receive your acceptance onto a training contract the feeling will be extremely gratifying and all the work will seem worthwhile. I would also advise everyone to fully understand their options and realise that there isn't just one route into qualification, knowing about ILEX and the legal executive route is important and people like Andrew Fieldhouse at Douglas Scott are great to speak to when thinking about your options. However, the battle doesn't end there, law is a fiercely competitive career and you will always be looking to the next goal in your journey, but in my opinion, it is exactly that, which makes the career exciting, forever shifting and never dull.