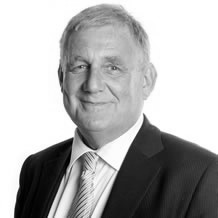 Each month, the Douglas Scott blog features an interview with one of our connections from the legal world and beyond. Next we have Nick Davenport, Senior Partner at Turner Parkinson and President of Manchester Law Society. Thanks Nick.
What does your Twitter profile say about you? I am Senior Partner of Turner Parkinson, commercial lawyers with a difference in Manchester. I am also President of Manchester Law Society.
Please tell us a little bit about Nick Davenport Born in Stoke-on-Trent, I now live in Newcastle-under-Lyme (that's Stoke without the smoke!) and I'm married to Tracey with 3 kids, 3 cats and a Bedlington Terrier called Darcey. I studied at Ampleforth College, North Yorkshire then Worcester College, Oxford and qualified as a solicitor as recently as 1978 from the College of Law, Chester. I became a Partner in Stoke's leading corporate law firm aged 28 and relocated to open their Manchester office in 1996. I joined Turner Parkinson as a Partner in 1999 and was promoted to Senior Partner in 2002. Oh yes, I've also been described as, erm? a party animal!
Which 3 words best describe Turner Parkinson? Commercial, proactive, personal
Who's been the biggest professional influence on your career, and why? My colleagues at Turner Parkinson - I couldn't ask for a better group of people to be in business with.
What's the best advice you could give a young, ambitious solicitor at the start of their legal career? Never forget that a career in Law is a career in business - you cannot just be a good lawyer.
What do you enjoy doing when you're not working? I play golf, indifferently? support Stoke City, passionately? and read widely - particularly about Roman Military History and Archaeology. I also adore cooking and entertaining and simply love anything with a motor. I'm a real petrol head!