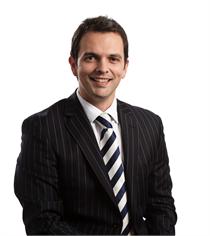 What does your Twitter profile say about you? Expert in resolving disputes, particularly in relation to property and construction. Interested in business and developing people. Love my family, life, sport and having fun! (@CMacCafferty)
Why law and why your particular area of expertise? Law; as a child, chatting to a family friend who was a Senior Partner in a law firm, initially sparked my interest which was re-ignited while doing some court work before going travelling. Litigation; I have been described as a 'competitive dad'! Need I say more?!
Describe your firm in three words. Friendly and results-driven.
What do you enjoy most about your job? Helping people who are dealing with a stressful situation and delivering the results they need. Leading and developing a team of talented Litigators.
In these tough economic times, what is the most challenging element of your job? It's not just the tough economic times but also the radical changes to the profession. Particularly in litigation, we have to be creative in the way we charge for our services. It is no longer good enough just to say "here is our hourly rate"; you need to give clients pricing options for the work you do. Every other business does, why should the Law be different?
Tell us about your 'landmark' case. I've had a few standout cases including a Professional Negligence claim involving the Fatal Accidents Act, 2 firms of Solicitors, a Barrister and the Court of Appeal! However the one that sticks out in my mind the most was a claim for one of my manufacturing clients. The dispute related to copper mines in Mauritania. We were able to obtain a quick result for the client by recovering in excess of $500,000 by employing commercial tactics. Apart from the unusual location of the dispute and the money at stake for the client, it was a great example of 'thinking outside the box' rather than simply ploughing on into Litigation at the inevitable expense to the client both in terms of time and money.
In your view what does the future hold for the legal profession? The legal market is currently going through unprecedented levels of change which will completely transform the way that legal services are delivered and priced. In terms of Litigation, the Jackson Reforms are due to be implemented next year which will have a big impact on litigation funding. Whilst many are nervous about the impact of these changes, SAS Daniels is embracing them! We definitely have a 'glass half full' attitude and we see opportunities for us and our clients!
Who's been the biggest, single inspiration in your career? I have had many, including business and career mentors. However the biggest inspiration is Niamh, my eldest daughter. It is fair to say she has been through a lot in her short life so far and yet has a real zest for life. Sorry to be the parent bleating on about their kids but Niamh winning the Teachers Award for Year 1 at school sums her up; in the face of adversity she's still determined, positive and gives her all!
What advice would you give to an ambitious Solicitor at the start of their career? Try and experience some life outside the Law. Don't be in such a hurry to get on the career ladder. It'll make you a more rounded person, you'll find you can form stronger client relationships and will do a better job as you've lived a bit.
What has been your greatest achievement so far in life? Meeting my wife Sarah and having our two awesome and entertaining daughters Niamh and Orlaith! It's never a dull moment in the MacCafferty household!
Please tell us a little bit about you. I'm a Lancashire lad. Went to Primary School in Denshaw, a small Saddleworth village which had a football pitch on the side of a cliff! Secondary School was Hulme Grammar in Oldham and then I studied Business Law at Coventry University. I played junior squash for Lancashire and won a gold medal for Oldham at the Greater Manchester Youth Games! I worked for a bit and then went travelling until I received a call from my Mum to say "get home, you're due to start Law School in a week!". I qualified as a Solicitor in 2004 and am now heading up the Litigation group at SAS Daniels. I completed the National 3 Peaks Challenge last year, raising £2,500 for the hospital Niamh attends. I have a fantastic family, both immediate and extended. I have a wonderful wife who is very supportive and an excellent Mum. I am immensely proud of my daughters. I'm a big sports fan and try to exercise as much as I can, time permitting with work and family! I'm very excited about the business challenges ahead, both personally and for SAS Daniels LLP. The future's bright?!
http://www.linkedin.com/in/christophermaccafferty