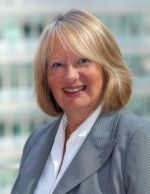 Each month we feature an interview with one of our connections from the legal world and beyond. This month we have Joy Kingsley, Senior Partner and Head of Business Development of JMW Solicitors in Manchester. Thanks Joy.
Please tell us a little bit about Joy Kingsley
Born in Manchester and attended Manchester High School for Girls and the University of Nottingham. Husband is Mike Blackburn Director at Icom Communications. Two boys - 19 and 15. Spent 32 years at Pannone and its many predecessor firms in several roles from Trainee to Managing Partner/Senior Partner. Joined JMW in September 2011 as Senior Partner and Head of Business Development.
Which three words best describe JMW?
Entrepreneurial, successful and great people (that's four).
Who's been the biggest professional influence on your career and why?
Looking back probably Rodger Pannone who taught me that it's possible to be entrepreneurial in a profession which isn't known for this trait.
What's the best advice you could give an ambitious Solicitor at the start of their legal career?
At the minute it's tough – work hard and find something that differentiates you from the crowd.
What do you enjoy doing when you're not working?
Sleeping. Work is a hobby as well as a job but holidays would be way up there too and of course, time with my family.