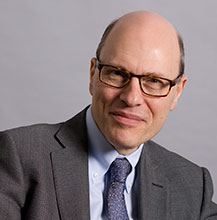 This month the legal recruitment experts meet the legal expert. Joshua Rozenberg should need little introduction but if you don't watch television or read papers or the Law Gazette, here goes.
Joshua was the BBC's Legal Correspondent for fifteen years moving to the Daily Telegraph in 2000 and editing the paper's legal coverage until the end of 2008. Also on his CV is his weekly commentary for the Guardian's online law page; twice monthly column for the Law Society Gazette; presenting the popular Radio 4 series Law in Action (a programme he launched in 1984); chair of Halsbury's Law Exchange (independent and politically neutral think-tank); regular appearances on Sky News, the BBC news channel and other news networks in the UK and the US plus appearances on The One Show and in 2012 he was included by The Times in its independently-judged list of the UK's 100 most influential Lawyers, the only journalist to feature in The Times Law 100. You want to know more? Google him. There is only one Joshua Rozenberg.
You are a broadcaster, blogger and author. Give our readers an overview of what you do.
I write a weekly column for the Guardian's online law page. I write twice a month for the Law Society Gazette. I present Law in Action on Radio 4. I pop up constantly as a pundit on television and radio stations across the UK and further afield and I lecture, make after-dinner speeches, moderate discussions, chair conferences and speak confidentially to Lawyers and Judges.
"Britain's best-known commentator on the law". What an accolade. How did this happen?
It's quite a small field really. I was the BBC's Legal Correspondent for fifteen years spending most of my time appearing on television news at a time when people used to get most of their news from television. My face became well-known.
Why did you choose to read Law at university?
I wanted to try something I had not studied at school. I also thought it might lead to a career.
You then qualified as a Solicitor but now don't practise - what changed?
While still an Articled Clerk as Trainees were called then I applied on a whim to join the BBC's News Training Scheme. To my amazement the BBC offered me a place. It would have been discourteous to turn it down.
What do you enjoy most about your job?
Living on my wits. There's nothing like broadcasting live on something you know very little about to wake you up in the morning.
What is the most challenging element of your job?
Lawyers who are happy to broadcast for nothing. How would they feel if I started giving free legal advice?
You have a phenomenal ratio of followers (circa 22,000) to following (circa 260) on Twitter. Do you think that Twitter and social media have a real, and valuable, place in our world now?
Certainly. I learn a lot from Twitter but it's hard to find time to read the tweets and retweets published by the people I follow and so I am reluctant to follow anyone else. For the same reason I take care not to burden my followers with too much trivia and gossip.
You use Twitter to break stories; what has been the biggest story you have broken?
The names of three Judges who were about to be promoted to the Supreme Court.
You also lend your skills to speaking at corporate events - what's been your best heckle?!
I was constantly heckled by Claimant Lawyers as I presented awards to Defence Lawyers working in the field of Personal Injury. Fortunately I have forgotten the exact words used.
What has been your greatest achievement so far in life?
Celebrating my fortieth wedding anniversary with family and friends last week.
Who's been the biggest influence on your career?
Probably my wife who was a journalist before I was. Robert Fox was always one step ahead of me at the BBC and then at the Daily Telegraph — a producer who became a reporter then a correspondent and then moved to a newspaper before freelancing. Sir Louis Blom-Cooper QC and Marcel Berlins wrote legal gossip columns before I did. Various BBC sub-editors taught me how to write.
Here at Douglas Scott we have front row seats at the Crown Court in Manchester (our office looks out over the front steps). We have witnessed recently a number of protests from Lawyers about the Legal Aid cuts. Can we have your view on these cuts?
I share their concerns about the dangers of undermining the criminal bar. We need strong Criminal Advocates if we are going to have effective Criminal Judges in the future.
What's the best advice you could give an ambitious Solicitor at the start of their legal career?
Try to get a broad range of experience as early as possible both in the law and outside.
Tell us about you - growing up, education, career path, family, interests etc.
Born and raised in west London; educated at public expense; trained at a suburban law firm; 25 years on the staff of the BBC; eight years in newspapers; married with two married children and three grandchildren; more interested in Lawyers than in Law.
Thanks Joshua