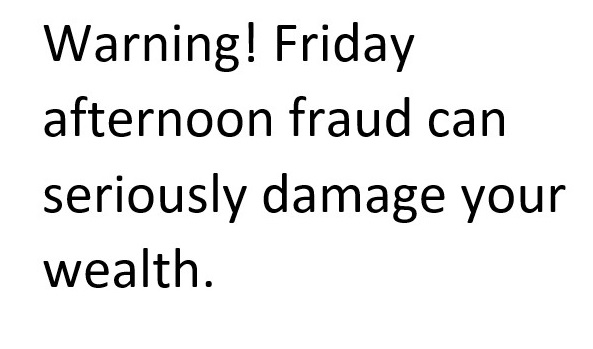 It's stressful enough waiting for completion monies to make their way up a long chain of sales and purchases but imagine if somewhere on route funds went missing.
"Friday afternoon fraud" is on the increase and Solicitors and Property Lawyers should be diligent with the August bank holiday coming up.
Recently the Financial Times reported that "Friday afternoon fraud" had resulted in £85m being stolen from UK law firms in the past 18 months. Friday is a popular move date for house buyers and sellers because it provides them with the weekend to get settled into their property. Consequently, Fridays are notoriously busy for conveyancers with lots of pressure to get transactions over the line, and a hell of a lot of money passes through the system in order to facilitate the sales and purchases.
It also provides a great opportunity for fraudsters to get active. Law firms are being duped into sending funds to fraudsters "safe" accounts that are then immediately transferred out on a journey to a destination account. Techniques include email interception and bogus telephone calls often purporting to come from a bank's counter fraud team.
Clients have also fallen victim to fraudsters. Earlier this year The Telegraph reported on a case whereby a Staffordshire couple were instructed to send £204,390 completion funds to their Chester based conveyancer. The funds never arrived but the couple did not discover this until after the Easter weekend. Fraudsters had hacked the couples' email account, deleted the completion statement and bank details sent by their conveyancers and replaced it with bogus details.
Whatever the strategy employed the objective is to either obtain secure banking details or swap in the fraudsters bank details in place of genuine Solicitor or client details. In February the Law Society issued some guidance entitled "Practical tips to protect your firm from scams". Might just be worth a refresh in anticipation of a busy Friday preceding the August bank holiday.
http://www.lawsociety.org.uk/support-services/practice-management/scam-prevention/practical-tips-to-protect-your-firm-from-scams