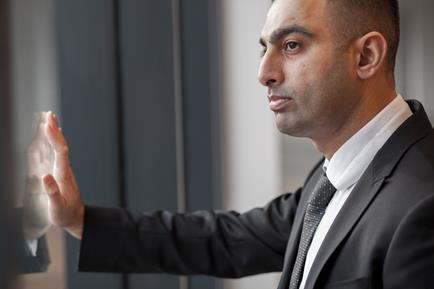 If we are talking about Darwinism and survival of the fittest amongst law firms then Imran Akram - CEO and Practice Manager of Asons Solicitors - must have a few of the answers. Asons are bucking the trend in the tough post-Jackson PI market and recently announced plans to build a new £7million HQ in Bolton and create up to 300 jobs.
Tell us about Asons Solicitors.
Asons is a young and dynamic firm focussed solely on commercial and operational effectiveness. It is this focus that has allowed us to grow and expand so quickly from just three people to almost 300 in five years. To succeed in law you have to do things differently so we employ friendly and switched on people with fantastic ideas that can help us soar to new heights. It's our people that drive and make us a great firm so when we're not making money we're spending it on developing our people and nurturing great talent.
Describe your role.
I co-ordinate and delegate tasks among the Senior Managers to move projects along and fine tune the legal engine that is Asons Solicitors. More than anything I'm a people person. I get involved in all the senior hiring, speak to people around the office, encourage new ideas and creativity, know everyone by name, take an interest in their lives and make sure everyone feels appreciated - that's important. Second to all this I also have to make a lot of difficult decisions. When something big crops up all of our people look to me for guidance, advice and direction.
What has Asons achieved over the last twelve months and what's in store for the firm in 2014?
Over the last twelve months we've doubled our headcount, doubled our turnover, won lots of awards, been accredited with the Customer Service Excellence Award, retained our Investors in People Award, became a 'Best Company to Work For', opened up a whole new area of law and began work on building a new purpose-built £7million pound HQ. Phew. In 2014 we hope to build on this by further developing our staff, expanding our existing departments and creating one of the biggest Industrial Disease teams in the country.
What do you enjoy most about your job?
Every day is different. It's always challenging but the outcomes are always rewarding.
In these challenging economic times what is the toughest element of your job?
Retaining our people.
What does the future hold for the legal profession?
The legal profession is in a difficult place at the moment. It's becoming increasingly competitive and recent government rulings now mean that the margins associated with many kinds of legal work are falling. Many Solicitors with some foresight are moving to fixed-fee regimes to give clients certainty and peace of mind. Consequently it means that the kinds of law that we practice can only be done profitably in high volume making it very difficult for new entrants to gain a foot-hold. Another thing to consider are the changing times and technology. The average consumer of law services has changed, they're much more tech-savvy so I'd go so far to say that firms who exploit new technologies and digital channels are those that will really succeed in the coming years. More and more people are willing to go online and shop around for a Solicitor and not necessarily choose one that is nearby allowing firms like us to pick up clients as far afield as London. This is bad for your traditional High-Street Solicitor who generally relies on local footfall for business and can't afford to splash out on big marketing campaigns. So I imagine we'll see many firms consolidate, close or be bought out by larger ones so smaller players will likely vanish. The practices that will thrive are big players who have modelled their firms like a business and not like a vocation. It's not just about getting the work in but processing and getting it out again.
Who's been the biggest influence on your career and why?
My parents have had the greatest influence on my career. They taught me the value of respect for others and gave me a great sense of direction as well as common sense which nowadays isn't quite so common! More recently I've taken a lot of inspiration from Floyd Mayweather and His Highness Sheikh Mohammad.
Many congratulations on winning Business Person of the Year 2013 in the Bolton and Bury Business Awards. Being a Bolton boy this must have been an incredibly proud moment for you...?
It was a proud moment and a humbling one too given that in the grand scheme of things we haven't been in the business long. We forget that we're actually quite big now. We were nominated alongside a variety of well-known local firms and business people so for me to be chosen over firms I've grown up with was quite a significant moment for me.
What has been your greatest achievement so far in life?
They say that success is less about how far you've come but more about the number of people that you've brought with you. Work is one of the biggest commitments we have in life so to think that I've created something which impacts the lives of some 300 people so heavily means an awful lot. I hope that in the coming years I'll be able to help even more people to realise their potential and achieve great things too.
You are one of seven kids. Has growing up in a big family given you the skills to run a large and successful law firm?
Being the eldest I have always had responsibility. We grew to be a very close family and we always stick together. I owe much of my success to our family values.
What do you enjoy doing when you're not working?
I enjoy clothes shopping, fine dining, the internet, biographies, driving and socialising.
Where did you last holiday and where is next on your list?
My last holiday was to Las Vegas and my next will be to Dubai after which a slightly longer holiday in the form of retirement and then perhaps shoot off to space! I hear Virgin Galactic has a deal on!
We couldn't help but notice your love of fast cars and in particular Lamborghinis – do you secretly wish you had been an FI driver?
Supercars are a passion of mine. They signify engineering brilliance, daring, sportsmanship and living on the edge; all of which mean a lot to me. But no, I don't wish I could have been an F1 driver. I can do better doing what I do now as opposed to driving a fast car for a living.